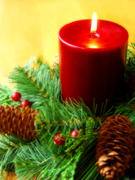 Do you dread the holidays? Eagerly anticipate them? Do both at once? Here's CSIGY (Creative, Sensitive, Introverted, Gifted) Tips and Tools to Stay Balanced Through the Holidays:
Hollywood's images of perfect family holidays set up unrealistic expectations that can never be met. Let's face it, we can't possibly measure up to the Norman Rockwell or "It's a Wonderful Life" ideal. So why not take the pressure off to be perfect and enjoy the season? If your well-being has become the last priority in your life, it's time to learn how to EEEK your way through the holidays."
EEEK stands for Experience it, Explore it, learn to Embrace it, and Kreate something with it to heal our lives. These are the mind-body-spirit skills that will enable you to heal yourself. Doing Creative Handwork like quilting, bead work, whittling, metalwork or knitting helps you to "download" your emotions; and by turning it into what I call Contemplative Handwork, you experience its power to heal your life. This is hands-on Play Therapy for Adults.
Many CSIGY's eagerly anticipate the holidays and dread them at the same time. They have high expectations of themselves or others that are impossible to meet. There is too much to do, and it all seems important. Creative, Sensitive, Introverted and/or Gifted people also want to DO it all, yet feel torn because they need solitude and quiet to connect with the deep spirituality and soulfulness of the holidays – and they may feel empty and the holidays may be void of meaning without this deep spiritual connection.
Winter is deepening, and with it may come an instinct to hibernate, which also conflicts with keeping up with holiday events and responsibilities. With the waning light may come awareness of inner darkness as well. Grief and loss can loom large as others celebrate. Need I say more?
Would you like some Tips and Tools for staying balanced through the holidays?
I am providing a Mini-Playshop for those in the Denver area to provide them.
Those who attend will learn:
Ten Ways to Maximize Your Holiday Happiness
Seven Ways to Manage Your Holiday Expectations
How to Activate Your Creativity to heal your life-even during the holidays
Navigating Tangled Family Connections and Expectations
Coping With Grief During the Season to Be Jolly
Click here to learn more so you can stay balanced through the holidays this year!
Not in the Denver area? Click here to access our Holiday Stress tips.
Please post your concerns here by clicking on the link below that reads Be the first to comment.