"My SoulShirt™ PlayShop" is Being Postponed 
Due to an unforeseeable scheduling conflict, which came to my attention only yesterday (July 30) SoulShirt™ PlayShop-Retreat   will  not be held on August 9, 10, 2014 and will be rescheduled.  We have contacted everyone who has registered for this event and are making this public announcement also. We are searching for alternate dates and will inform everyone as soon as we can confirm a new date.
We apologize for any inconvenience that this may cause anyone.   I deeply appreciate those who registered and those who requested registration for the next workshop due to summer travel. Thank you for understanding. Refunds will be issue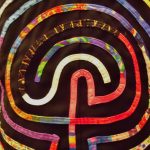 d or can be applied to the Sept workshop.
This photo is of a classical labyrinth which occupies the back of my very first SoulShirt™.  Labyrinths are ancient,  archetypal symbols that speak to us of Life's Path, full of twists and turns and unpredictability.  Unpredictable in the next few steps, but predictable in that in a labyrinth, if one keeps following the path, one is certain of reaching one's goal- the Center or alternately, the return path out of the labyrinth.
To follow the metaphor, we know that this sudden postponement can appear to be a glitch in progress. But if we accept the message of the labyrinth, we can know that this is true:
Blessings to you as you follow the twists and turns of your life's path.
Scrap Lady Sharon