Finding someone to love who loves you back can be especially challenging for Creative, Sensitive and Gifted Adults and Teens.

Happy Valentine's Day! This, the Day of LOVE, is often met with mixed reviews. It's even more fraught with complex concerns for CASIGYs™ (Creative/Curious/Complex, Alert/Aware, Super-Sensitive, Intense/Intelligent/often Introverted, likely Gifted You-s) than it is for 'normals'. Valentine's Day can be the day of pleasure with the love of your life OR it can be a day of pining for love, pain related to lost love, pain related to the lack of love or the pain mixed in with the love that is in your life. Whichever way it is for you, here's my reflections on Valentine's day for creative, sensitive, and gifted adults and teens.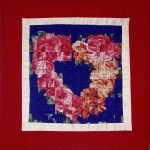 Over the years, I've listened to many teens and adults talk about their challenges with relationships, and especially love relationships. CASIGYs™ are a small segment of the population, so finding someone you can feel connected to can be quite difficult. In addition, the unique and complex combination of traits that CASIGYs™ have magnifies the difficulties of what can be challenging for anyone. And then there is the fact that modern, urban culture expects more out of marriage or other love relationships than ever was expected in this earth's history, which only complicates things further.
Several years ago, I made a series of quilted fabric hearts. It probably won't surprise you to hear that as I made them, and as I contemplated on them, they spoke to me about life and about love. Here's some of the things I've learned about love while I was quilting:
1. Opposites Attract.
A quilt that has all of one color tone is blah and boring; quilts need light color tones, medium color tones and dark color tones to catch our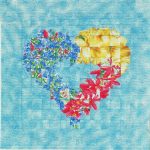 eye. If two people are completely alike, one of them is not necessary. In relationships, even when we have many things in common, we are often attracted to people who have characteristics that we lack, or feel like we lack. Some of the heart quilts in this series include a lot of blue, yellow and red. I like yellow and red; Gary likes blue. Luckily, many fabrics contain both so I was easily able to accommodate both of our tastes. That makes them a great illustration that in art and in life, we need all sides of the color wheel.
Looking at this from another angle, it wasn't long ago, that my husband of 40 years, Gary said something like, "I always thought YOU were the one who was better at . . . . I've forgotten what it was, except that it was clear to me that whatever it was that he was talking about seemed clearly to me to be a strength of his, and a weakness of mine. In my view, he was finally taking back the projection that he had placed on me a very long time ago and was owning his own strength. In a relationship where there is mutual attraction and mutual attachment, there are also mutual projections. As we 'grow up' emotionally, we gradually take back those projections, both positive and negative. That is often one of the processes active behind the scenes when couples 'fall out of love'. Falling out of love, when it is based on taking back our projections, gives an opportunity to begin to discover who we each are, and then to build a relationship based on who we really are, rather than who we thought we were.
2. Listen to your heart & let it lead you.
There was a time in this world's history when thinking was considered to happen in the heart, and not the brain or mind, which is in the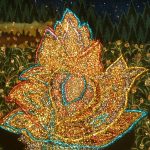 head. We have learned more about anatomy and physiology, and understand more about how the brain works since that time. But we have lost something in our literalization of where things occur in the body. Who knows? Our current understanding may soon be eclipsed by new knowledge that encompasses the old as well as the new. To live our lives well, we need to consult both the head and the heart, for when the head leads, our lives run more smoothly; and when the heart leads, our lives are rich and meaningful.
3. Carefully tend the sacred garden of your hearts.
Tend your own heart first; everything else follows. There are various angles on this.
• When I only do what 'needs' to be done, my life is like a barren desert. When I do some things that I love to do, that feed my heart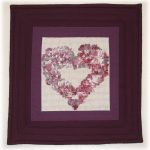 and soul, then I can do the things that 'need' to be done with a full heart. When I fill my heart, I have something from which to give to others. Otherwise, I am pouring from an empty pitcher.
• Many people quote Jesus as saying to love others before loving ourselves, but I read it this way: "Love your neighbor as yourself ." To me, this means that my ability and capacity to love others are limited by my ability and capacity to love myself. So to expand both my ability and capacity to love others, I start with loving myself.
• How do I love myself? I care for myself, body, mind, soul and spirit. I start on the inside, and pay attention to and meet the needs of all aspects of myself. I start with the basics-feed myself well, get adequate exercise and sleep. I care for my soul and psyche, my inner Self, not just once in a while, but daily. Then I can find that the better I care for myself, the more I have to give to others, and the more I have to offer in a love relationship.
Thanks for reading my reflections on love. Stay tuned for Part 2, coming soon  of "Seven Secrets for Having the Love You Want ".
To make sure you get notified when the rest is released,  click the subscribe icon above.