Finding Beauty In Life's Scraps:
Six Steps to Overcome Any Adversity

  Intended Audience:  Can be personalized for General Audiences of Adults and for parents and educators of Highly Sensitive, Gifted, and/or Twice Exceptional students, and Gifted Adults
Is your audience facing adversity? Has Life or Business dropped a 'pile of scraps' in their laps? They're not alone. When we're in the midst of adversity, you may feel like you're lost & alone in life's deep dark woods. You may  also  feel  disconnected from yourselves, others, your spiritual resources & your strength. Adversity can be tough for anyone, and for HSP, GT, 2E or 2X people who typically experience life more intensely than others, adversity can be even more difficult than it is for others. In addition to the adversity itself, you may also have to face the intensity of internal sensitivities and overexcitabilities as well as the judgement and impatience of others.
In this presentation, Sharon shares her story of many years of facing a debilitating illness starting at age 39, and life lessons she learned during her physical and emotional recovery. She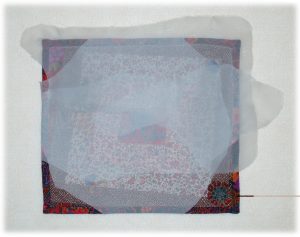 illustrates her presentation with some of the textile art she has made, which also became an avenue of her healing and recovery. She shares  six tools that your audience can use to turn pain into gain and overcome any adversity. Drawing on inspiration from the rich symbolism of pioneer American women sewing quilts from scraps,  Sharon uses SCRAPS as an acronym to help participants remember and apply these Life Lessons Learned While Creating.
In "Finding Beauty In Life's Scraps," Participants will learn:
Sense:

How to use your senses to open yourself to inner healing

Create:

How to use your creativity to heal deeply while having fun

Release:

How you can be set free from the emotional pain

Accept:

How to turn adversity on its heel

Plow:

The special secret to accessing the benefit hidden deep within adversity

Sprout

: How to grow the resilience to begin again
Optional Participant  Make N' Take =
Postcard made with scraps
To contact Sharon for information on how to book  her for your group, click here.